REDESIGNING EXPERIENCES TO DRIVE YOUR GROWTH
CuriosityCX sits at the intersection of customer experience, behavioral science, and business strategy
Fact-based behavioral science insights and design consultancy
For over 20 years our team has been deeply involved in observing and understanding human emotions, attitudes, and behaviors to help businesses create a better customer experience. We move fast to not just uncover real problems, but also deliver real solutions.
We help businesses find the right problem to solve and then create human centered innovative solutions
We know you have to move fast to get results and so we have developed a proven method to maximize time to value for your CX efforts. This approach creates an iterative test-and-learn environment that has its roots in design thinking 
From survey design to complete CX architecture creation, CuriosityCX can fit you with the ideal solution for your organization's needs. It is important you get the capability you need…perhaps with some room to grow.
Give us a ring. We can very quickly and efficiently conduct a market scan of the available and gated research portals. We're also adept at finding experts in the field, interviewing them, and bringing their years of experience into the solution.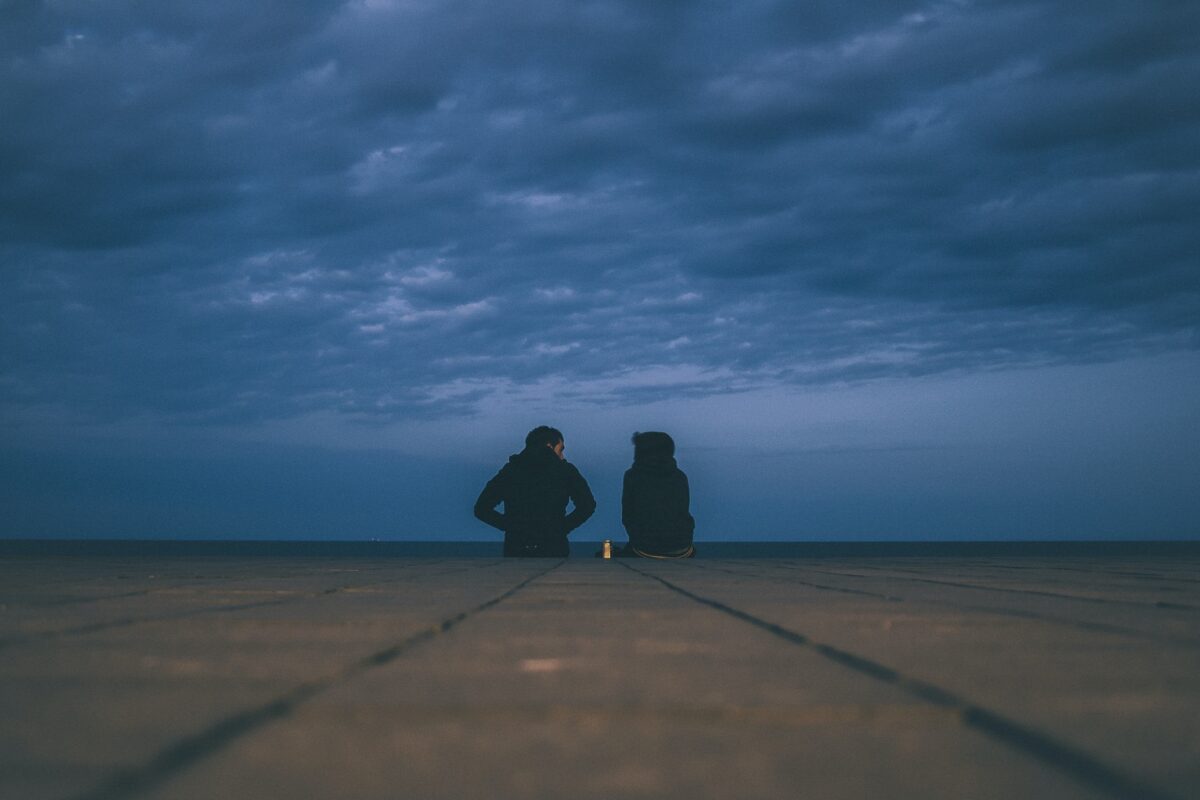 Finding the solutions for your business
We focus on the human element to get the underlying story; not what is just floating on the surface. We use the art and science of psychology and data science to connect the "what" with the "why" to your specific business problem. Once known, we work with you to develop and test innovative solutions
Helping businesses create better customer experiences (CX)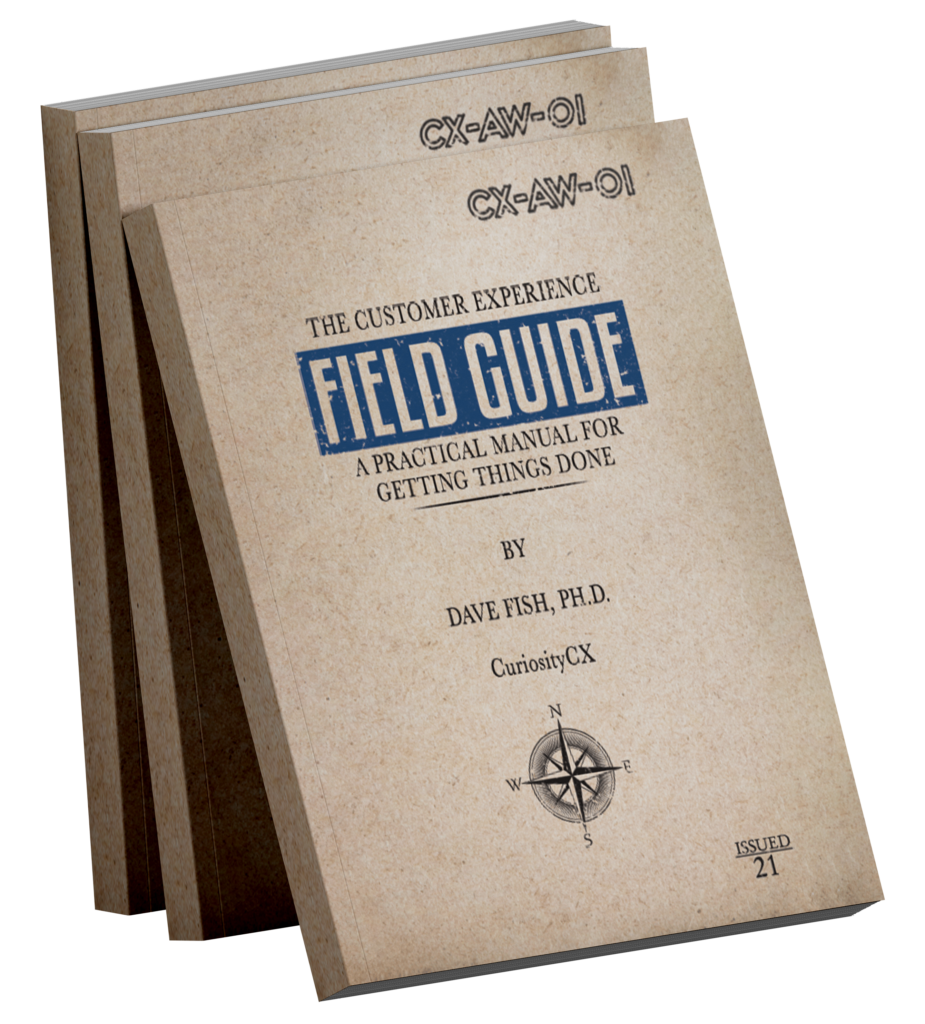 step-by-step practical guide
How to actually set up an initiative from the ground up
While much has been written about the importance of customer experience, there has been little practical advice about how you actually set up an initiative from the ground up. "The Customer Experience Field Guide" is a step-by-step practical guide to set up a CX initiative from scratch or to overhaul an underperforming program. "The Guide" walks you through setting up provisional governance, creating personae, conducting journey mapping, developing and implementing metrics, and setting up a complete system to drive meaningful and enduring organization change. Whether you have been involved in CX for decades or you are brand new to the discipline, this book will provide practical, real world advice and specific guidance on how to get your CX initiative up and running quickly, maximizing your organization's time to value.
Dave is one of the few that understands CX from the board level to the front lines, which is a void with many firms. Additionally, he's exceptional at delivering the "why" and the "what", as well as the tactics of "how to" for highly meaningful, CX-focused change.
Erich Dietz
Executive Vice President, BILT
I had the pleasure of working with Dave for more than ten years. His background, knowledge, and sense of humor make for make for both actionable and entertaining insights.
Paul Herdman
Global Head of Customer Experience
NICE CXone
When the title of his book included 'getting things done', I knew I had to meet Dave Fish and his company as we started our CX journey. And I am so glad I did! We have retained Dave to coach and guide me as the CX leader and couldn't be happier. He is very wise, flexible and timely with his service and support.
Deron Austin
Director of Customer Experience
David has an uncanny ability to take a mountain of ideas and narrow those down to tangible, actionable items that always deliver a big impact for the client. Plus, he's one of if not THE smartest UX/UI person I have ever worked with in my 25+ years in adverting and marketing. Big fan!!
Dean Skinner
Chief Creative and Marketing Officer
I have worked with Dave for years. He is one of the brightest people I have ever worked with in my career and can solution complex problems like no other. If your CX efforts are stuck, Dave is the solution to move you forward.
Matt Inman
Global Director Customer Experience Johnson Controls
Dave has one of the most creative minds I've experienced in the insights space. Any project lead by him or his team is certain to include a very practical agile design, and deliver meaningful business impact.
Michael Brereton
Executive in Residence, Michigan State University Former President and CEO of Maritz Research
Dave combines a great mix of industry knowledge, professional insights, and personal experience to unlock the value of CX.
Josh Lacumsky
Customer Experience Manager Midland States Bank
Every so often, one runs into someone with a wonderfully unique blend of intellect and personality; Dr. Fish is one of those rare leaders. I look forward to working with Dr. Fish again in the future and hold him in very high regard.
CEO AtlasRTX
It is a good and efficient focus group!
S.M.
New York, NY
Good question, solid flow to the process. Allowed a good amount of time for everyone to contribute.
Andrew
Las Vegas, NV
Great experience in the focus group. Extremely professional.
Dana
Newark, NJ
The focus group leader was personable and easy to be honest with. He was sure to include everyone and hear from people equally. It was good that he set expectations from the start and let people know he might cut them off based on time.
Katarina
Norfolk, VA
Laid back, able to express opinions and professional
M.G.
Cincinnati, OH
It is very good. The host drove the discussion pretty well
Anonymous
Jefferson County, Missouri
Overall it was a good experience! Everyone involved seemed nice, and it seemed like everyone tried to give genuine answers.
E.L.
Newark, NJ
Great experience, the facilitator did a great job of giving everyone the opportunity to speak. He was engaging and clear which helped the time go by quickly.
Z.O.
Palmdale, CA
It was cool relaxing and engaging
Leo
Houston, TX
It was professional and easy - from the phone call from Michelle, to the group discussion led by Dave. Follow-up email came as mentioned and so did the gift card. No hassle.
Lisa
Seattle, WA
Great online research experience and this was my first time doing a survey via zoom. Of course it would be better if they took place in person. Host did a great job.
MARC
San Marcos, CA
Facilitator did a great job keeping the conversation going, allowing everyone to talk, and cutting people off when they were going on and on.
Heather
Alexandria, MD
Great experience and a diverse representation of consumers. Thank you.
Nancy
os Angeles, CA
I had a great experience with curiosity research.
Anonymous
San Diego, CA
Was pleased with experience
Anonymous
Columbia, MO
I have to say I thoroughly enjoyed the study last night. It was very informative and I found it very entertaining. The host was very professional and asked all the right questions.
Lori
Houston Texas
To deliver the real answers that result in meaningful organizational change
Our team has been deeply involved in observing and understanding human emotions, attitudes, and behaviors to help businesses create better customer experiences.  Using qualitative and quantitative approaches we deliver meaningful organizational changes.
Let us find the solutions for your business.
We respond within 48 hours
We would love to hear from you. Just complete your details and we will get back with you as soon as possible…usually within a few hours