Almost every Saturday morning my family rolls into the Starbucks drive thru on our way to the farmers' market. It is a chaotic and noisy scene in the car. I am always astonished at the amount of noise 4- and 6-year-old children can make, especially if I forget to bring along something for them to do. I roll up to the drive thru to get my kids their hot cocoa, my wife's drink (which would rival in length the average Welsh place name), and my simple black coffee.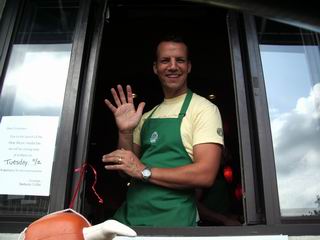 One Saturday I thought I would spice things up by adding nonchalantly to the end of my order "…and an order of death sticks," just to see what would happen. Now, to those not nerdy or old enough to get this reference, it was an homage to the bar scene in Star Wars: Attack of Clones.
"That's $8.23. Please pull around," said the barrista/cashier/drive-thru guy cheerily.
I figured he either didn't hear me or ignored me as he did not ask to clarify further my death-stick addendum. So we pull around, I get my litany of hot cocoas, pink donut lollipops, and multisyllabic latte-mocha-whatever. As he returned my debit card, he looked me straight in the eyes and said:
"You don't want to buy death sticks, you want to go home and rethink your life," and promptly closed his window.
I was stunned. That was very funny . He quoted verbatim what Obi-wan the Jedi master told the purveyor of death sticks from the Star Wars movie. He turned what could have been perceived as an irritating non sequitur into something fun to interact with a customer. It was memorable.
Right then and there he created an emotional experience through the use of humor. While we usually think about creating emotional experiences through delighting customers, humor can be just as powerful. The most famous for this is the antics of Southwest Airline flight attendants. They turn a boring process review into something fun and engaging for passengers. Delta Airlines later picked up this practice in their pre-flight safety demonstration, starring their flight-attendant-turned-temporary-actress Deltalina (their latest ones are quite good).
Automotive has recently taken a more humorous approach in their advertising with the ubiquitous and quirky Kia Soul Hamsters. Retail juggernaut Amazon lets its customer service representatives have a little fun, too. Even normally conservative Toyota has gotten into the act with the Jungle Wakudoki. Most people like to laugh. It sets people at ease in tense situations. It helps us connect more intimately with one another. Smiling and laughing are universally translated the same. It's a low-cost investment in getting both your employees and customers engaged with the brand.
Have you had any fun service or product experiences lately? I'd love to hear.