Much has been made about the lack of progress in CX and the impotency of 'Insights' in making a meaningful difference to the business. That lack of effectiveness isn't for a lack of effort or investment. Markets and Markets predicts that spending on CX will balloon from $8.5b in 2020 to $14.9b in 2025. There are millions of 'CX' programs out there…but it seems only a precious few seem to really move the needle. According to a study by Acquia in 1999, nearly half of all customers globally said that the brands they engage with don't meet their expectations. 
While there are certainly many reasons, I think the blame for this failure may rightly lay right at our own doorstep. I am often asked to recommend if there is a good 'starter' manual for CX for those interested in learning more in the field. While there are many excellent books, programs, and classes that help neophyte CX professionals become more acquainted and skilled in the tactics of being in the field, I have yet to find a good definitive 'how to' guide on building one from the ground up. Many of the ones that attempt it, seem to get caught up in cool frameworks, principles, 'best practices', concepts without getting down to brass tacks; how do I practically build one? Those wanting to build a greenhouse, don't want 'best practices' in building one, they want an actual plan so they can build one[i].
To fill that void, I decided to write one (on building CX programs, not greenhouses).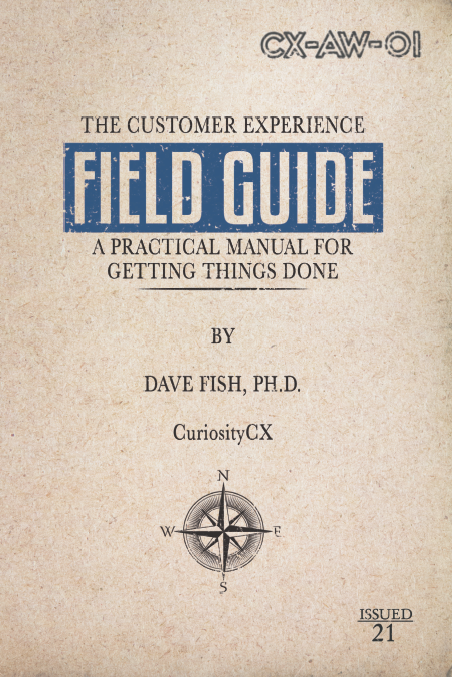 I hope in some small way, my upcoming book "The Customer Experience Field Guide: A Practical Manual for Getting Things Done", will help those struggling with getting started (or reinventing their program) and help our efficacy challenge. In the book, I lay out a step-by-step process on how to get a CX program up and running from the ground up. Based on the unapologetic cribbing from my many amazing colleagues and my own experience in building these programs over the years, I broke the "Playbook" into three major stages: Plan, Know, and Do.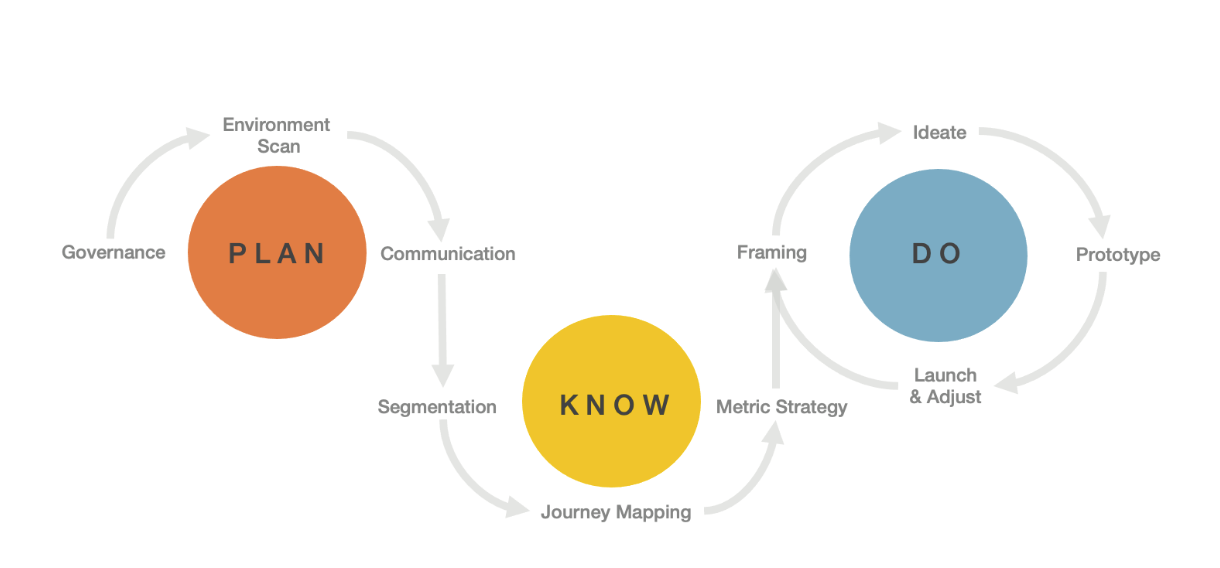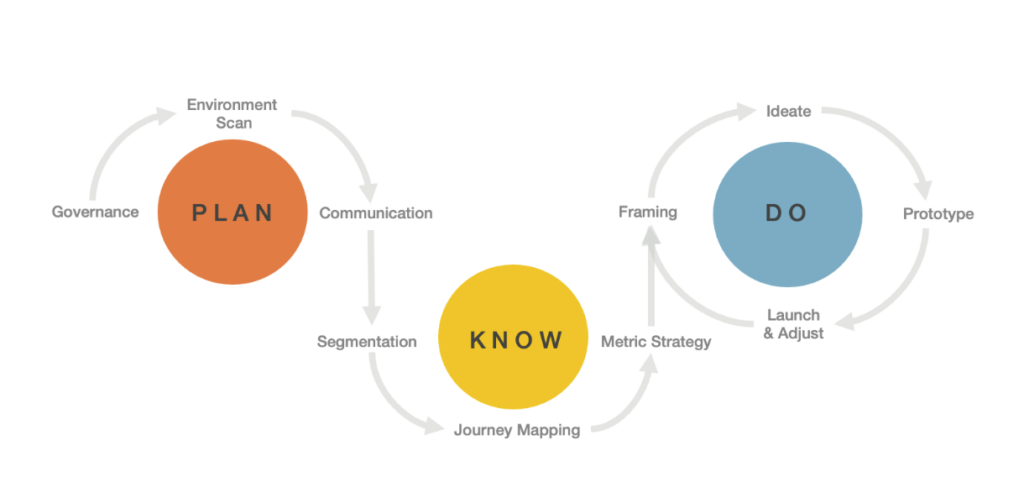 Plan
In the planning stage we have three important steps. First for any organization starting their CX journey getting organized and coordinated from day one is important. Provisional and permanent governance will set the stage for moving forward, eventually working my way to a discussion of the heralded Chief Customer Officer. While others have done a thorough job on discussing the topic, I tried to also advance the topic a bit by exploring the role of the CCO in the context of a larger group dynamic. It usually takes a team (whether part or full time) to make CX efforts move forward.
As Ferris Bueller once said, "life moves pretty fast. If you don't stop and look around once in a while you might miss it." While not discussed much, in planning your customer experience revolution, it is good to heed Ferris' advice and look around at what is going on by examining both what the competition is doing and what others are doing in other industries. For example, if you make bowling balls, maybe look at what other ball makers are doing…or what other "lane sports" consumers are doing. Explore the trends and potential disrupters. It's fun and informative work and can be a great inspiration to both motivate folks and draw inspiration for CX design work. We call this an environmental scan and it is a combination of secondary and observational research sometimes supplemented by expert interviews.
Also, in standing up CX programs sometimes overlooked is the art of communication. Getting off the block right with a holistic, inspiring, and comprehensive communication plan can make or break a CX program as it signals to the organization how serious senior leadership is about the effort. A solid internal communication plan should be run much like an external campaign focusing on the areas of education, excitement, and engagement. Even great content gets overlooked if not marketed well.
I've seen the "Plan" process in real-time several times and it always follows roughly the same flow. Take for example the rapidly growing Midland States Bank. The C.E.O., Jeff Ludwig, and the President, Jeff Mefford had a hunch they did fairly well on CX, but they were on an acquisition spree and had no on-going formalized method to get concrete feedback from their growing customer base. They tapped Aaron Rios, Head of Operations, to get the ball rolling quickly set up governance and a series of actions of teams.
Provisional governance was composed of people from across the organization representing marketing, operations, human resource, retail operations, call center, and other areas across their business units. They selected Curiosity to help with their overall CX playbook, provide advice on internal communications and structure, as well as their metric strategy. As of this writing, they are in the process of deploying VOC metrics across the organization by business line and already generating value from the feedback they are getting on an ongoing basis.
Know
This section has traditionally been the heart and soul of most CX programs, so much so that for some VOC and CX are used interchangeably (they are not the same thing). We use quite a bit of ink on this topic blending traditional market research principles with design thinking approaches.
First stop in this process is understanding the market. No one has 'one' kind of customer; by understanding differences amongst groups and individuals you can further fine-tune both your products and communications. Even Customerthink has many different readers; folks from VOC, Call Center, Marketing, Technologists, and so forth. Understanding their difference (and similarities) is key to designing and delivering a good experience.
Partitioning the market by common needs is achieved through the orthodox market research methodology known as consumer segmentation. With that in hand, we turn to a more traditional topic in CX; Journey mapping. While familiar territory our approach is a bit different than others in that we incorporate segmentation into the methodology and philosophically view Journey Mapping not only as a way to understand the customer's points of pain and opportunities but also as an organizational change catalyst. The act of getting folks in a room from disparate areas of an organization and working on journey mapping initiatives can result in magic for moving the organization forward.
One initiative we worked on for a grocery delivery initiative brought together at 7 departments from across the globe. Working together on the initiative from the eyes of the customer created many 'oh wow' moments in understanding what others were planning for their portion of the project. In essence, it helped everyone see the whole elephant and mitigated many missteps in the limited market launch.
We also spend a fair amount of time talking about metric strategy and architecture. We answer questions such as: What is a relationship study? What is a transactional study? How should they be organized and harmonized? What about text analytics? How does text analytics fit in? These are all questions we address in great detail through my usual juvenile parables and non-sequiturs.
Many in hospitality use basic segmentation well in their VOC programs. They look at business traveler vs. pleasure travelers and distinguish amongst their gold and platinum customers vs. those who just stay occasionally. In many cases, a small loyal base can make up the majority of the volume, and this happens often in hospitality. Splitting out your sample to understand differences in both needs and evaluations is not only motivational for your front line operators but also critical in knowing what assets to allocate to improve the customer experience.
Do
Probably the most neglected aspect of CX is, ironically, doing anything with all the great information generated. Why? Because it is really hard, and it can seem almost overwhelming to unjam an organization stuck in well-worn ruts of the organizational inertia of we've-always-done-it-that-way-ism.
We lay out an approach, called AgileCX® whereby change can be enacted through a series of small incremental experiments that can be run in parallel. After all the fork didn't arrive as is in its current form out of thin air, it started as a two-pronged stick and evolved through iterations of refinement and improvement to the four-pronged wonder we take for granted today. 
We can run these experiments in the petri dish of market research concept testing or just jump right in and start messing with stuff in isolated corners of the market. This process consists of four simple steps borrowed from Design Thinking and software professionals everywhere. First, frame the problem; ensure you are solving for the right problem. People (and I noticed anecdotally especially guys) love to 'fix things'. It takes some discipline to hold back and really identify the problem and get alignment. Not doing so can result in rework or quite possibly in failure.
Next, we dream. Brainstorm and document it. We can generate thousands of ideas for a problem, most will be bad, but a critical few will be good. We only need one. Then we move to the prototype stage. Why develop a full-blown product when you can explore a basic prototype or even a mocked-up concept for feedback? While many think of a prototype as a physical object, it doesn't have to be. Food trucks are excellent prototypes for full-blown restaurants. Blogs are great prototypes for books. Meetings are good prototypes for conferences. Finally, you build something and then tweak it ad infinitum.
Recently we have been engaging more and more in helping brainstorm solutions. As my friend and colleague Greg Iszler commented "rather than leaving the client with a folder of problems uncovered in the research how much better would it be to leave them with a folder of solutions!" I really think this is where the emphasis needs to be placed more squarely rather than worrying about scores and return rates. Besides, it's more fun.
Your Thoughts
While still in the editorial process I am excited about the new book and also would encourage your feedback. I hope to provide a useful go-to reference guide for the practitioner. What do you think? Did I miss anything? What would you like you or your end clients like to know more about? I am interested in your feedback and am passionate about moving efforts from an emphasis on a study of the problem, to an emphasis on creating great solutions to improve the customer experience.
[i] If interested, here is an excellent plan for building a greenhouse. https://www.ana-white.com/woodworking-projects/diy-greenhouse