"These things changed my life!"
We were at around mile 6 of the Bentonville Half Marathon when I got into a conversation with a fellow runner about footwear. He was wearing a newer "rocker" style shoes which have rounded soles.
"I heard mixed reviews about those," I said.
"Well, my knees were so bad before, I basically couldn't run anymore. I started running with these and now I don't have any pain," he said trotting along at a good pace.
When I tried on rocker shoes at the running shop I almost face planted in the store. Clearly not for me. What is right for one runner is not for another.
Picking the right Voice of the Customer or EFM or what Forrester now calls "Customer Feedback Management" (CFM) software partner is an analogous situation. What will work great in one organization may fall flat in another. But how to select the best one for your organization?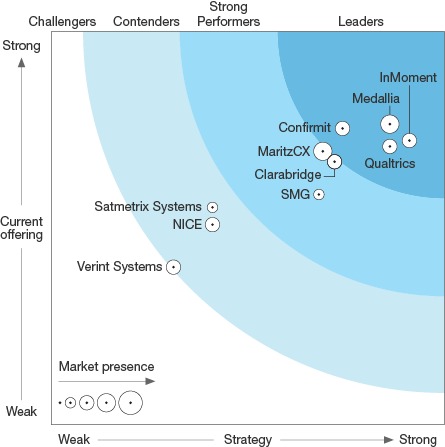 Much like buying a pair of running shoes, the first thing you need to do is figure out what you need. While there is certainly difference in navigation, data visualization, and tool sets that are easy to see, there are many "below the surface" issues endemic to the design philosophies of software platforms.
Based on my experience in building, vetting, and using these software platforms for the last two decades, I wanted to share the top 7 "gotchas" that, if left unanswered, can bring CX programs to their knees well into the deployment. If you are looking for a new provider or starting a new CX program make sure you answer these critical question with your would-be software partner before you consummate the relationship.
1. Do you Need Self Service?
Do you want to do the heavy lifting yourself or do you want to have someone else do it for you? Not all SaaS providers are the same. Some software providers, such as Qualtrics, Clarabridge, and others provide this "self-serve" option. In this scenario you may be in command of loading sample, building the survey, deploying it, configuring reporting, and running analyses. This is appealing to the research oriented types.
The allure here is control and a lower price point. However, caveat emptor is certainly a phrase to keep in mind. If you go the self-service route make sure you have the time and resources to dedicate to it. Sometimes the allure of a lower self-service price point is a powerful elixir for purchasing and the end user is left holding the bag to staff to it. Happily, many software firms offer services as well (either direct or through partners) to help you out if you get stuck.
2. How Many Nodes Do You Have?
Nodes are front line end units in a distributed CX system. They can be call center representatives, dealerships, bank branches, distributors, or any unit that is the lowest level for which you wish to aggregate and display data. The power (and cost) of software you can employ vary greatly according to the number of nodes you have how and how they are organized (#3 below). If you are a non-distributed B2C situation (like online stores), then the level of sophistication you need will be relatively low. If you are Subway, Starbucks, or AT&T with literally tens of thousands of physical stores globally, then yes, you will want to pick a provider who is really really good at this kind of work.
3. How Complex is Your Hierarchy?
Ok, now don't go to sleep on me here but this issue is very important. I have seen this esoteric issue many times either make or break a CX program. Organizational hierarchy is how your organization's end nodes (e.g., stores) are placed into a logical (hopefully) nested hierarchy. It usually goes something like this: many stores go into a region, many regions go into an area, many areas go into a country, and the countries roll up to global. There are infinite number of flavors by which firms organize themselves. If your organization has no nodes, you are dismissed from this class. Please skip to point 4.
There are many issues that can throw an ugly wrench in CX programs when it comes to hierarchy. Some complications for a potential CX software suitors are: the amount of hierarchy change over time, the number of concurrent hierarchy schemes, horizontal hierarchy overlays (such as departments and day parts in a retail store), and when role access is hard wired to the hierarchy structure. When selecting a CX software partner make sure you make your needs are very explicit with examples to avoid unpleasant surprises for both of you at deployment.
4. How Do You Need to Summarize Your Feedback?
Once upon a time, we would collect data and then aggregate the results at the end of the month. We would post these in tabular form or perhaps a bar chart or two and post it on nascent intranet sites and dazzle the masses. It was a simple time. Life was good.
Today, for some CX studies (particularly relational or "wave" studies) this is still fine. For post transactional or "in the moment" type of CX programs this is generally not. It comes down to the use case. Ask yourself "do I need to take action off of the information immediately?" Usually in transactional studies that answer is yes because of new agile approaches to CX design and quick turnaround of hot alerts.
Another important consideration is around the handling of historical data. Software types will typically "backcast" scores based on the current hierarchy. For example, if store 123 was in district 3 in January and was moved to district 4 in May's reporting, then store 123 is reflected in district 4 historically (i.e., January through May).  DBAs like this tidiness.  Unfortunately for many this is not sufficient for their use case needs. If you have a need to see that store in their original district/region (i.e., "moment in time") due to an incentive need or other hierarchy score continuity requirement you will want to make this requirement abundantly clear. This, for database folks, is what Rob Burgundy would say is "kind of a big deal".
5. What Kind of Tools Do You Need?
Tool sets are another important differentiator. Some organizations primarily requirement is tracking KPIs and are happy to have a nice reporting site. You will find software companies are stronger or weaker on UI/UX and this will become a consideration since it will drive adoption.
However, if you have other needs then you will want to make sure your software partner has that capability or can partner to provide it. Common tools include case management, performance planning, action planning (group level problem solving), collaboration tools, marketing integration, tabulation tools, analytical tools, and API capabilities. Companies such as Medallia, InMoment, MaritzCX, Responsetek and others have well-defined suites of add on tools.
Buy what you need. Just like a car, the features you buy, the more expensive it is going to get. Also, unneeded features can overwhelm end users, thus reducing adoption. If you are starting out, start simple. Buy the Harley Sportster; you can always upgrade to the V-Rod later.  Buying tools that your organization isn't prepared to use will reduce the credibility of your program and can negatively impact the experience for your customers.
6. Is Your Program Local or Global?
This, too, is a very important issue to surface early on. Global programs can be orders of magnitude more complicated than programs that operate in a few countries. Outbound survey language is only a surface level consideration. In bound text (and if it needs coding) can be very complicated. Issues of localization (phone numbers, date formats) can also hamper some programs.
ETL can become onerous as different regions have different levels of sophistication in retaining customer data. Data security and hosting also can be become a concern (e.g., for some reason Russia doesn't like Americans holding their citizens data in the states). If you have a global need, you will want to partner with someone who can handle this level of complexity.
7. Do You Have Specific Vertical Needs?
Lastly, the CFM world is surprisingly still nascent when it comes to vertical expertise. Each software provider grew up in a certain vertical and so that's how they tend to view the world initially. Features and approaches that are a given in one vertical are sometimes unheard of in another. For example, social media integration at the property level is table stakes in hospitality but largely irrelevant in retail banking (do you tweet about your local bank branch?). Many software providers can and do stretch across verticals. Just be aware of your idiosyncratic needs and make sure you are explicit.
Buy What You Need
Much of this stuff is patently unsexy behind-the-scene functionality, but critical for potential clients to achieve a good fit for their needs. CX software providers are exceptionally gifted at sales and some will attempt to convince you they can do everything for everyone. At this point in time, this is simply is not the case.
Ask the hard questions and then verify them. In addition, ask if you can take those shoes out for a test drive. If possible, take a test drive with your own historical data. This is an increasingly accepted practice in the CX software community and many software providers will do for low cost or free. It won't catch some of the dynamic areas I have outlined above, but it will give you a very good feel for the functionality of the site and what is there, or not.
While there are certainly other areas for consideration in selecting a CFM provider, these are the top areas that I have found can really make or break a system. If left unanswered and unresolved you may face some very unpleasant outcomes. Way worse than blisters.