2.1
That's the average number of vehicles in each US garage today.
1.2
That's the number of vehicles that is projected to be in each American household garage with the advent of autonomous vehicles, according to  a study by the University of Michigan Transportation Research Institute. What's driving this trend?
Changing consumer preference
In my last article we saw that while the number of people 16-18 who are getting their license are decreasing, but folks in the United States still love to drive. However, the love of driving and the love of owning are very different, especially for the youth of America..
According to our 1st Annual Mobility Study we found that more than 1 in 3 (35% ) of the American public agreed with the statement "If I didn't have to own a car, I wouldn't". That equates to roughly 75m US drivers that would forego owning a car if they could.
Perhaps not surprisingly, those most keenly interested in literally kicking their car to the curb are those who live in cities. We can see about 43% of those living in small cities and 46% of those living in large cities would like to ditch their car.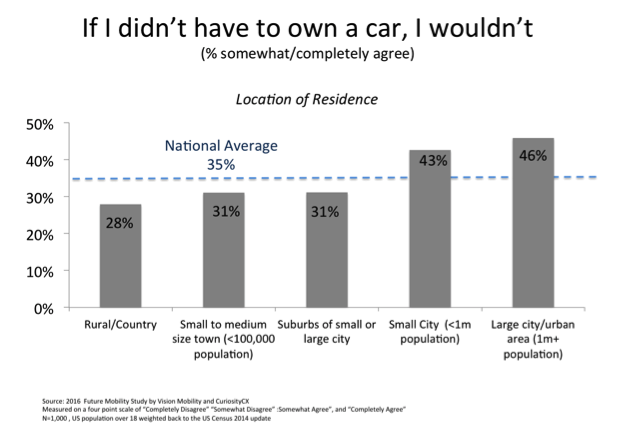 What should be of interest for those in the business of building and selling vehicles is that young people are the least interested in owning them. In fact, the majority (52%) of young males (18-34) who traditionally have been most enthusiastic about vehicles would really rather not own one at all.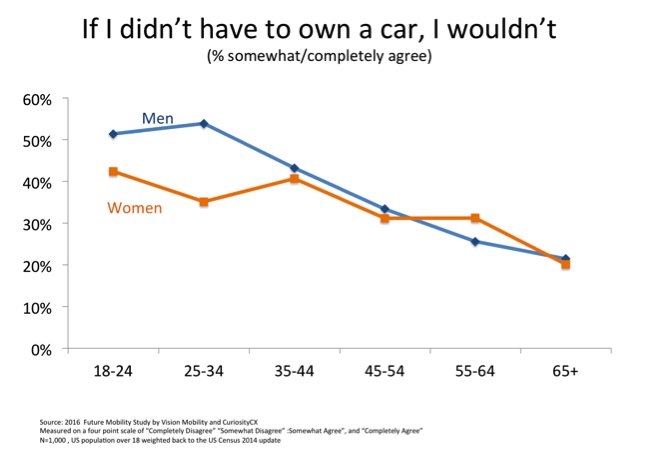 Does this spell the death of "car culture" in the United States? I think not. Like many trends, the underlying mechanics remain. People still love cars…but their relationship with them is changing….sometimes in surprising ways.
Interested in learning more? Please join my colleague James Carter and I on November 22nd at 2pm EST to learn about these trends and more. Register here to attend for this free event.