What the recent InMoment/MaritzCX merger means and what the future holds
Just a few days after it was announced that Confirmit and Dapresy joined forces, today venerable CX solution provider MaritzCX merged with Utah based InMoment. This has in essence created one of the largest, if not THE largest in terms of market share and revenue EFM provider in the space.
It's no secret I am familiar with both of these firms, having worked in various positions with Maritz for over 13 years (including CMO) and partnered with InMoment in the years after my departure.
The MCX/InMoment merger is a bit different than others in that, to some extent, it is a merger of equals. Both with strengths and weakness in their own right, but in my estimation two culturally compatible entities with an industry foot print that is big-foot wide.
Having been around the CX block , I can tell you they make for a formidable competitor to the more recent disruptors Qualtrics and Medallia, not withstanding the excellent soirées they hold.
Are we done with EFM consolidation? I don't think so, but we are getting close. The big players hailing from a call center heritage are Verint and NICE. Both also have been on a buying spree with Verint mopping up Vovici in 2011, then Opinionlab in 2017 and finally Foresee in 2018. NICE decided to swoop up NPS banner holder Satmetrix in 2018 too.
A few years back MCX itself merged with Allegiance and Empathica and Mindshare merge to form InMoment.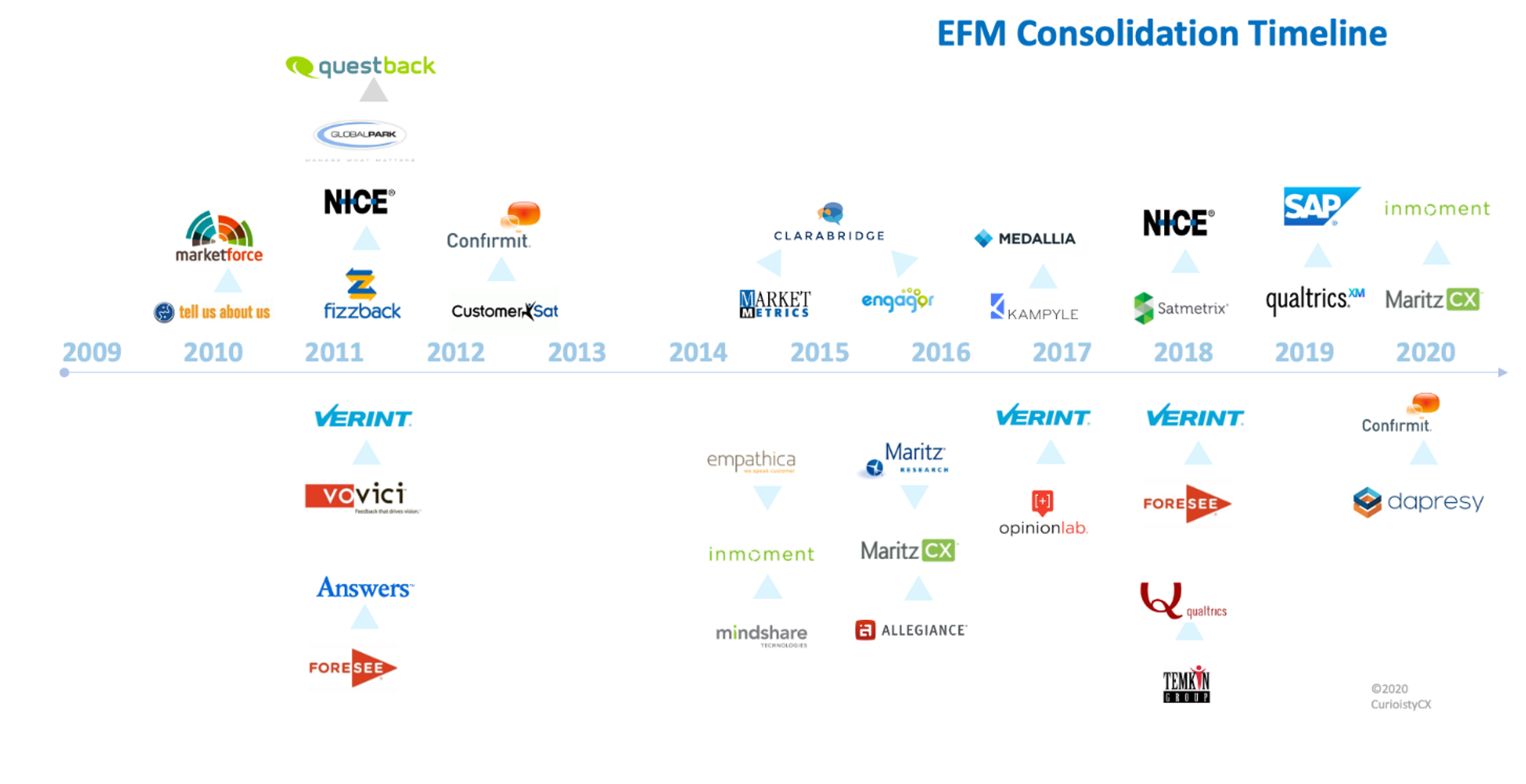 This was all done in a race to complete a successful "solution stack" in this space. EFMs are like Mexican food; it's essentially the same ingredients combined differently. The first who can offer the best tasting, cheapest meal with the most variation wins.
That full product stack includes: dashboards, data processing (ability to crunch big numbers fast), cross platform connectivity (APIs), text analytics, social media harvesting, predictive analytics, data capture (fancy survey builders), installation services, and expert services.
All the current big players have built (Medallia), borrowed (Customerville & Clarabridge), or bought (Dapresy & Confirmit, Qualtrics & Temkin) their way to 'full stack status'. We now have really cool state of the art locomotives. I mean these things are huge, powerful, and reliable. But they are locomotives.
In my opinion these waters are more red than an Arkansas Razorback football game and if we are honest with one another, they have been for quite a few years now. So what's next?
Here's what I think.
Qualtrics Provides Some Clues
First, we can certainly see in the tea leaves when SAP spent the equivalent of the GDP of Burundi on the acquisition of Qualtrics. I remember a friend of mine coming back from one their extravagant conferences and asking me "Dave, I don't get it…they are just doing surveys right?" Surveys indeed. You would think they have created an anti-matter powered jet pack…but no. At the end of the day it is the same Mexican food, but presented really nice; buy something-get a survey-fill out a survey- report on the survey. That is the basic use case and has been for 50 years.
What's different about the Qualtrics acquisition (other than sparking my fascination with tinted eye glasses) is that SAP has a pretty fancy CRM platform. Connecting EFM and CRM…wouldn't that be cool. I've been talking about it for at least a decade, and it seems to be coming to fruition. That is part one of how to get us out of this Mexican Food Rut (although I do very much like Mexican food). CRM can help do more than prevent churn or send a carton of Bon Bons to a disgruntled hotel guest..it CAN MAKE MONEY. It's not only about cost avoidance any more, it's about revenue generation too.
Channel Changes
Email is dead. So much so, that I know some insight suppliers that are turning back to mail surveys to get opinions. The good news is that the fundamentals are still there; most people are inherently narcissists. They like talking about themselves and they like other people reading about their opinions. This is good.
Businesses are more thirsty than ever for the voice of the customer. They want to get smarter so they can win. Even stodgy old price leaders have pretty much come around to this realization. Customer has and always will be king. This is also very good.
What's bad for us in 'the biz' is a majority of Americans have a fake email address for their 'junk' email and others use temp email approaches to get a gated contact, email is not a good way to do much of anything nowadays. If you get past that hurtle you have spam filters and even still…seriously? filling out a survey? The next CX conference or bar-mitzvah you go to get a show of hands from the crowd of how many people actually fill out surveys.
Unlocking how to get in contact with folks who want to be heard and giving them incentives to do so will be the key. SMS and Social Media channels show some promise, but I think it is much bigger than that.
Look to the Past to Find the Future
The largest prize to unlock is a very old one but still the most powerful. In the 1940s there was this fellow by the name of Kurt Lewin who said "hey what if we ask a bunch of people what they thought, took that information and made some educated guesses about what to do, and we just well…did it?" Thus the field of Organizational Development was born.
Companies who realize that technology alone will never make a difference and that it is really all about organizational change will win the day.
Having great golf clubs does't make you a better golfer. Commitment and practice does. This requires a whole different set of skills that no one in the EFM space currently possesses in adequate quantities (well, I do know this one little firm in Bentonville…).
By change, I am not talking about making sure Dora got her large fries or that you were able to up-sell a cable package to an AARP customer. I mean meaningful structural change. This is very rare to witness in the current state of affairs; bringing together marketing and ops to provide one holistic experience.
To achieve enduring positive change involves working directly with organizations to help them implement change and helping them create the right culture, tools, processes, policies, products, and tools to make meaningful and permanent cross organizational change. It's a hands-on very intimate approach that is akin to an agency relationship to an organization.
You cannot change your customer experience by correcting mistakes or cramming more stuff down their throats. Changing CX starts from within. Companies changes for the better or worse through the people who work there. The CX provider who figures out how to do this best…will win.
And for my friends at MCX and InMoment, I sincerely wish you the best on this new exciting page in CX history.